How to trim your orthotics
Step 1
Make sure to get the correct insole size from your shoes. Remove the existing liner out of the shoe.  Even though you can trim just about any size insole to make them fit inside your shoe, it is still important that you get the proper size for your foot.  Sizing on insoles corresponds with your foot and shoe size, but it also corresponds with your arch length.  The insole will be the most effective if you have the right insert for your arch length.  Since you are paying the extra bucks to add the support to your shoe, you want to make sure that the support is in the right place to be most effective for you.
Step 2
Use the liner you have removed from the shoe as a pattern.  Line up the edge of the heel of the liner with edge of the heel on the orthotics and also the inside edges of both.  Use a marker to trace the outline of the liner onto the orthotics.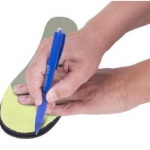 Step 3
Trim the orthotics along the line you have marked.  It is best to trim just outside the line to ensure it will not be too short. Don't trim too much off at one time. Making the orthotics too short will leave a gap at the end of the orthotics.  You want to avoid this because it can cause your toes to grip in the shoe in an unnatural way.  Trim less rather than more.  You can always trim a little more off the end if it is still to long for the shoe.
Step 4
Place the orthotics in your shoe and make sure it fits flat into the shoe with no buckling or bubbling.  If it is still too long, then take the orthotics out and trim just a little more off the end.  Repeat this process until it is a perfect fit.
Additional note
Although you can move your orthotics from shoe to shoe, it really is best to have a pair of orthotics for each pair of your shoes.  This allows you to make sure the fit for each shoe is perfect. You can trim each orthotics so that it fits exactly in your shoe. It also helps you keep track of when your orthotics should be replaced because the general recommendation is to replace your orthotics every year. So when the budget allows, it's good to go ahead and get a set of orthotics for each pair of shoes that you will wear them in.
If you have any questions, please let us know